Love is in the air. The first day of this love week is Rose day. A rose for the lady rose or for the gentleman or it can be for anyone, who is as adorable as the rose.  Every year all the couples around the world celebrate the rose day on 7th February by giving roses to each other. The first day of Valentine's week.  Rose day is one of the first days that marks the start of Valentine's week. On this special day, people share rose day wishes to express their feelings for their loved ones. This article will provide 100+ Rose Day Wishes that you can share with your special someone.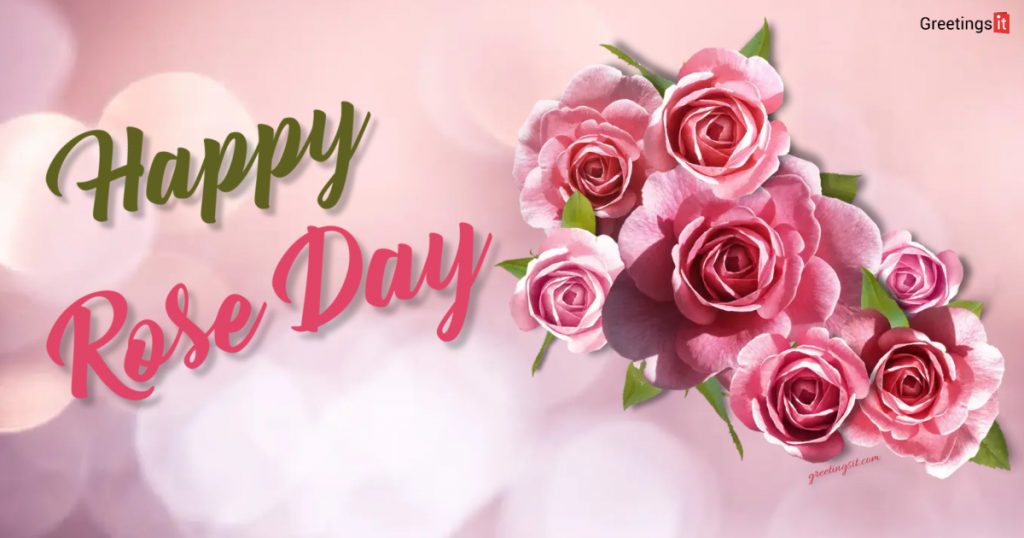 A sign of love, rose is used to express, love and cherish, and from where every love story starts.
Rose is the symbol of love and affection and that's why it is always given in the starting of every love story to show their love, affection to the other partner for a happy start that may last forever.
When words are short, Rose speaks. It helps you to tell your partner how much you love him/her. It shows your love, affection, gratitude and your intense feelings with your whole heart. On the very first day of Valentine week, rose day, couples give each other red roses to show their gesture of love to each other. They give them a single rose or bouquet of roses to show them their love.
Roses are of different colours and every colour rose helps to express different kinds of feelings. The red colour of rose is to represent the love and the feelings of love they want to express their partner.
The yellow color of rose is the symbol of friendship. If you really want to be friends with someone and want to express your emotions and feelings to them related to your friendship then you can give them a yellow rose and express it.
White roses are for the good beginning of married life.
Pink rose is used to show your gratitude towards the person, grace, joy and admiration. The unconditional way to express your feelings and love.
Having a big crush on somebody but afraid to tell them? Don't worry about this rose day, give them a blue rose to show them that you have a huge crush on them, and can't stop yourself from thinking about them.
These are the different colours of roses and their meanings, rose day is now on it's way. So by following these meanings of rose you can give your love on the rose they deserve or the rose you want to give them for the loveable starting of your Valentine's week.
There is much more to do on rose day. As for making your loved one feel special you can give them a bouquet of roses, a rose shower, or can make a heart for them with a rose. There are so many gifts available in the market for the purpose of rose day. Such as, golden plated roses as a gift, greeting cards in the presence of rose day, rose related gifts, teddy keeping roses in their hands and so on. You can even send them quotes relating to rose day by text message or on WhatsApp by wishing them happy rose day.
Rose Day Wishes for Girlfriend and Boyfriend
May God makes your life beautiful like the roses and remove all the thorns away from your path of success. Happy Rose Day.
"I have chosen these red roses in their full bloom to express my love for you because you are my better half. Happy Rose Day."
Roses are red, violets are blue, Honey is sweet, so is you. Happy Rose day dear.
Two things can't be measured in this world: My love for you and the beauty of red roses
A Bunch of Red roses signifies deep love & respect for you my love.
Happy Rose Day, honey! You are not just part of my life but the essence of pure love and affection in my life. May our paths be filled with colorful roses without thorns!
You entered into my life with a fragrance of joy, You are just like a beautiful rose. Happy Rose Day!
*May God makes your life beautiful like the roses and remove all the thorns away from your path of success. Happy Rose Day.
"Roses are Red, Violets are Blue, I know this poem becomes very cliché. But never fails to bring happiness in you. Happy Rose Day."
Happy rose day to someone who filled my heart with boundless love and happiness.
"Anything in this world is possible for me because only you can understand the feelings of my heart for you. Wishing you happy Rose Day."
I am sending this beautiful Rose for a sweetheart like you. Happy Rose day love.
Beauty and ugliness are the same aspects of a coin. You can never find beautiful roses without thrones in them
"I miss your cuddles, I miss your kisses but most of all I miss you! the love I have will never change as each day goes by I will love you till the day I die." Happy Rose Day!
Like the rose symbolizes love, you have made me believe in love and you are a symbol of true love to me. To my hot baby, happy rose day!
Sending you this beautiful bouquet of red roses to express my love to you that is deep like an ocean and vast as a sky. Happy Rose Day!
*Happy rose day to someone who filled my heart with boundless love and happiness.
The rose is the flower and handmaiden of love – the lily, her fair associate, is the emblem of beauty and purity." – Dorothea Dix
Roses are beautiful and so are you, Happy Rose Day!
May your heart be blessed with love and happiness today and always! Happy Rose Day!
Here's wishing you all the joy and love in this world on Rose Day!
Sending lots of love, hugs, and roses your way on Rose Day!
All I want for you this Valentine's Week is love and happiness – Happy Rose Day!
Wishing you a beautiful rose day full of flowers, chocolates, cards, gifts…and lots of kisses from me!
Love can be expressed in many ways but sending red roses says it best – Happy Rose Day!
Nothing can bring more delight than seeing a bouquet of roses from you – Happy Rose Day my sweetheart!
I love hearing your laugh, feel happy when we are together – Here's wishing you a happy rose day full of joy and laughter!
Roses make everything better – here's wishing you a wonderful rose day!
A rose to express my emotions – I love You beyond words could define – Happy Rose Day to My Love!!
Let everyone know how much they mean to me by gifting them beautiful roses -Happy Rose day!!!
May our LOVE grows stronger each passing year – Warm Wishes on ROSE DAY!!
My world has no meaning without YOU ,Happy ROSE DAY to YOU Honey!!
If there was ever a reason to give roses it would be YOU -Happy ROSE DAY
Let these Red Roses that I gift remind us both how we were made for each other-Happy ROSE DAY!
To The Most Special Person Ever In My life- Warm Greetings On ROSE DAY!
As Sweet As Arose And More Precious To Me Than Gold? You Deserve Beautiful Blooming Red Roses – A thousand cheers for You on ROSE DAY!!!
Today Is Just Another Reminder That Our Love For Each Other Will Never Fade Away -Life Is Beautiful With You And OnRoseday May We Make It Last FOR EVER !!
Hey there , here is a Big Bouquet Of Red Roses For My Sweetheart Who makes my life Perfectly Blissful:- Keep Smiling OnThisRoseDay And Always !!
Every time We Are Together No Matter Where We Are ,The Heaven Follow Us Everywhere That's What MAGIC IS- WishingA memorable Rose Day To My Love!!!
Happiness Flies From One person to another only if Both hearts Open Up For It –Wishing YOU Unconditional Joy &Peace On Rose day Darling !!
Loving U More Today Than Yesterday But Not As Much As Tomorrow——-Wish You A Wonderful Rose Day Full Of happiness!!!!
There will always stay chemistry between US two– Graceful Greetings On Roseday To My Lovely Partner ………… !!!!