Christmas Day is a special day when people celebrate the birth of Jesus Christ. One way to celebrate Christmas is to spend time with family and friends. You can also exchange gifts, decorate your home, and enjoy festive foods and drinks. Whatever you do, make sure to have fun and enjoy the holiday season! It's the most wonderful time of the year! Across the world, people are putting up their Christmas trees, hanging their Christmas decorations and writing Christmas wishes to their family and friends. If you're looking for a way to spread joy to your loved ones this holiday season, these Christmas quotes are perfect for you.
Christmas day wishes and greetings.
A very Merry Christmas to you! Wishing you a day filled with joy, happiness, and love. here we have a list of amazing Merry Christmas Wishes, quotes and greetings
Christmas day Quotes
"Christmas is a day of meaning and traditions, a special day spent in the warm circle of family and friends." – Margaret Thatcher
"One of the most glorious messes in the world is the mess created in the living room on Christmas day. Don't clean it up too quickly." – Andy Rooney
"My idea of Christmas, whether old-fashioned or modern, is very simple: loving others. Come to think of it, why do we have to wait for Christmas to do that?" – Bob Hope
"Christmas is the spirit of giving without a thought of getting. It is happiness because we see joy in people. It is forgetting self and finding time for others. It is discarding the meaningless and stressing the true values." – Thomas S. Monson
Christmas day wishes
1. May the sparkle and joy of Christmas fill your heart. I wish you a season filled with happiness and merriment.

2. It's a time to celebrate the simple things that make life beautiful. May you have great memories that will always be cherished. I wish you so much joy this Christmas and in the New Year.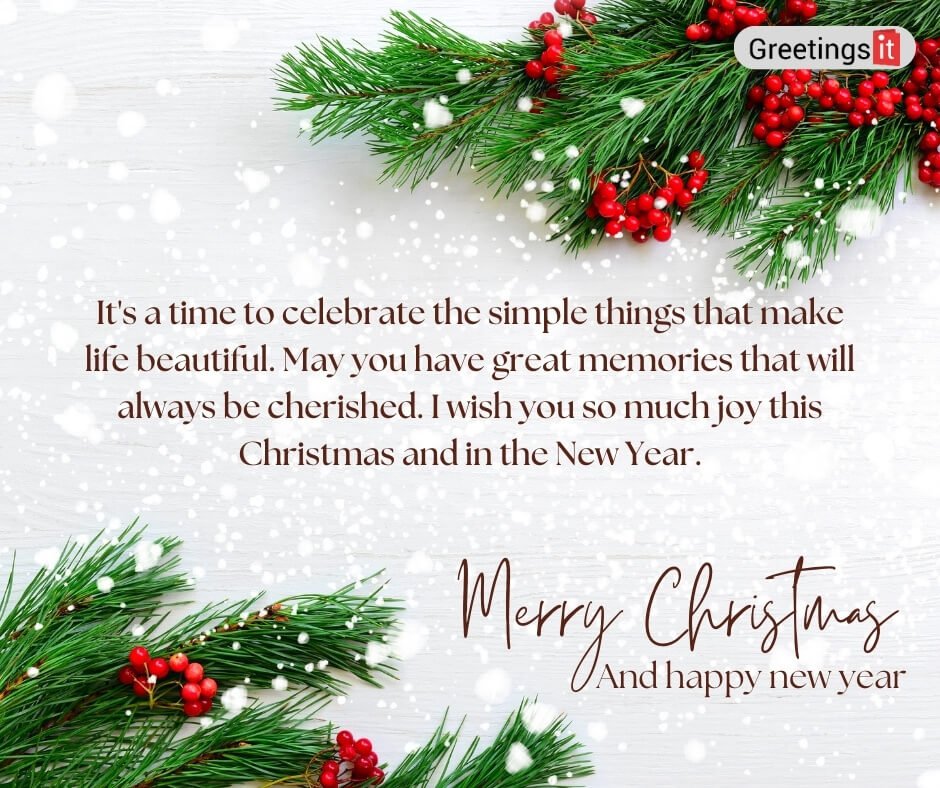 3. The season is filled with warmth from friendships and comfort from loved ones. Your friendship fills me with joy and your presence brightens my heart. Wishing you a Merry Christmas.

4. There is no better time for friends and family to get together than Christmas. May the true meaning of this season fill our hearts, which is to appreciate the love we have been given by not taking it for granted.

5. This Christmas, may your home be filled with laughter, contentment, harmony, peace, and an abundance of mercy.

6. The true meaning of Christmas lies in giving, sharing love, and reaching out to those who have touched our lives. I wish you the best of Christmas, and I am grateful for the blessings you have given me. You have touched my life in so many ways, and I am grateful to you for being such a wonderful friend.

7. It's time to enjoy the sense of calm and quiet that comes with this time of year. Smell the sweet fragrance of nature, listen to the birds sing, and share the moment with family and friends. We wish you a Merry Christmas.

8. Wishing you a wonderful Christmas and a prosperous New Year.

9. Merry Christmas and I hope you are blessed with faith, renewed hope, and good health for the remainder of your life.

10. We wish you a merry Christmas filled with many wonderful memories, great friendships, and a season filled with peace and joy.
11. Dear, I wish you a very happy and prosperous Christmas as sweet and as warm as the smell of a freshly brewed cup of coffee.

12. Among the soulful Christmas carols and the bright lights of the holiday season, may this season bring you many uncountable wishes and may your heart be filled with happiness during this season.

13. Please accept my heartfelt greetings and a unique feeling of joy with my Christmas season gift.

14. The holiday season is yet another opportunity to give and receive, but blessed is the one who gives more than he who receives. Spread the warmth and love that Christmas brings.

15. There is nothing better than Christmas. It is a magical season filled with joy. May you make lasting memories, forge lasting bonds, and strive to achieve a brighter future.
16. We wish you and your family the happiest Christmas ever filled with wonderful memories, new friendships, and fun festivities.

17. The Christmas season brings with it a special light. May this light be your sun so that you will never walk in obscurity. May these seasons' gifts and wishes be yours for the keeping.

18. Greetings from the bottom of my heart. I wish you good health, wealth, and long life. I hope you receive many shiny packages and bright lights.

19. It is my sincere prayer that this Christmas gives you the keys to any locked door and shines a light at the end of the dark tunnel. Above all, let this Christmas bring you the peace of Christ.

20. Wishing you a joyful and blessed Christmas filled with the splendor of Christ's birth. I send you a message of hope and faith.

21 The joys of Christmas come with heavenly gifts and magic. May these gifts gladden your heart as you experience the wonder of love. Laugh wholeheartedly and remain cheered all year long.

22 Wishing you joy and unending testimonies this holiday season. I wish you light to dispel any darkness. May you see Christmas through the eyes of a child and you will discover so much magic.

23 Christmas is a time when family and friends gather in merry and cheer. I send you love and best wishes.

24 We wish you a very merry Christmas and bright days throughout the year. You are loved and deeply cherished by us.

25 It's true that love makes all things possible, especially for someone special. May your Christmas be filled with love and joy. Have a wonderful Christmas.
26 The most wonderful time of the year is Christmas when we get together with family and friends. We make happy memories that last a lifetime.

27 Happy holidays! Wishing you and your family a season full of closeness, comfort, and unity.

28 Let's hope you have a wonderful holiday season. May all your dreams come true, and you feel happy all year long.

29 It's because of you that the stars shine brighter and the winter days are warmer. Thank you for being in my life and have a great holiday.

30 Everyone goes through Christmas together, so buckle up, enjoy the ride, and wish everyone a happy holiday season.
31 I'm wishing you Merry Christmas and surprising you with a special gift because the ultimate goal of Christmas is to do something extra for someone.

32 I'm giving you all my love so you have the best Christmas ever. The basic ingredients for Merry and Happy Christmas are time and love.

33 Wishing you a wonderful Christmas filled with lots of big and fantastic gifts that will make you happy.

34 Wishing you a wonderful Christmas and a prosperous New Year. May the holiday fill all your desires.

35 I wish you a very merry Christmas to the sweetest person I know. You shine brighter than the stars every day of the year, and here's to hoping you get back the love you deserve this Christmas season.
36 I hope Christmas gives you a bright and cheerful ending to the year. May your memories of the New Year be bright and cheery as you welcome a fresh and bright year ahead. Merry Christmas and a Happy New Year to you.

37 There is much more to the festive season than Christmas parties and gift-giving. It is about showing someone that you care about them. I hope that you find the true miracle of Christmas this year. You deserve it.

38 May you be able to feel the love and joy you give to your loved ones throughout the entire year. May the festive season bring you happiness, cheer, and peace of mind.

39 Merry Christmas and a Happy New Year to you all. It is the most wonderful time of the year when we are able to spend time with our loved ones and cheer one another up.

40 Our family comes together during the holiday season, and friends forgive each other. Let's share the joy of Christmas, and celebrate our lives together, with our families and friends. We wish you a Merry Christmas, and we wish you a Happy New Year as well.

41 The best thing that anyone can wish for Christmas is many blessings, happiness, and even more love than the previous year. I am grateful for you being a part of my life and I am sending a small token of your thoughtfulness to you this Christmas.

42 I wish that you and your family enjoy the festive season with all its joy and happiness, and may the holiday make every wish and dream come true, and that you have a truly merry Christmas.

43. There is no doubt that December is the month of cakes and candles, snow and songs, laughter and love, and the month of the special festival – Christmas. I wish you and your family a very blessed and happy holiday season.

44. The best gift I could ever give you could never truly convey how much I love you. You are my best friend, my all, and everything to me in this world. I carry you with me everywhere that I go. Merry Christmas.

45. Having faith makes everything possible, having hope makes things happen, and having love makes things beautiful. I hope you will have all three during the festive season. Happy holidays to you!
46. May you and your family have a happy and blessed new year. Here is a greeting for Merry Christmas to you and your family.

47. I wish all the happiness in the world to you this Christmas, and not just on Christmas, but throughout the year. It is a time to slow down and enjoy simple things.

48. We wish you and your family joy and peace throughout the year. Here is hoping you have a season filled with blessings from above. You deserve everything and more. Merry Christmas and Happy New Year!

49. Your generosity deserves only the best from Santa. This year, you outdid yourself. Santa should fulfill your wishes and dreams.

50. There is no better place to see how a glorious mess looks than the living room on Christmas day. Happiness and joy are revealed there, wrapped in the most glorious mess in the world. Do not clean up too quickly. Merry Christmas to you.
Funny Christmas Wishes
It's true that Santa can do some pretty amazing things, but I wish he could make "late fees" disappear off of bills. Merry Christmas!

It's the most wonderful season indeed – until everything has to be cleaned up, and the credit card bill arrives. 🙂

It's hard to imagine how Santa celebrates Christmas day. After working a late-night shift, I'll bet he just stays in bed and does nothing.

The only time I buy nuts is during Christmas, and it's the only time I feel like going nuts. Have a wonderful holiday season and may your sanity be preserved!

I wish for your holidays to be filled with many big smiles and big celebrations – but hopefully not big credit card bills! 🙂
Religious Christmas Wishes
Inspirational Christmas Wishes
Joyful Christmas Wishes